Movie Review – Happy Old Year
thomornc, 1 year ago
0
5 min

read
202
Hello, welcome to my blog again, it's Thomornc here! TodI'm going to talk about film that has the most being talk of the town in this year, which is "Happy Old Years" (How to ting).
I'm going to review this film just the scene I selected, not all of it because if I do that it will go to 2000 words instead, lol.
The "Opening" scene, this scene was in the opening of the film. Lin is being  interviewed by some reporter about her new workspace which is in the minimal style. After the key question has been asked, Lin starts staring at the container like she is thinking of something and then turns around to the reporter without saying anything about it. At this point, the circumstances make me notice that this character didn't dump all the things off and still can't move on too. And that what the story after this will reveal is what she is hiding in her minimal mind. 
The "House touring" scene, the film continues to this part in which Lin takes her friend, Pink, for a house tour and this scene showed us inside the house that was completely messed and cluttered. In this scene, not only showed me a detail of what has been left and also led to the first joint of this film which Pink knows that Lin didn't tell anybody in the house about this renovation and makes Lin move to the first conflict in her family. This scene has a very important detail since it has come to the introduction of three house's characters and intensively evince a character prohibit and inferiority complex at one time.
The "First interview" scene, This film already told me all the details including character , habit and inferiority complex but it still misses the purpose of the main character which will push the film to the end. This is the scene where Lin went to interview for her job and the interviewer suggested that she should have her own office to make it capable for the clients. So that's when the renovation begins.
The "Lin's first sorry" scene, Lin, before the renovation she needs to a rid all of the stuff first by putting everything that didn't 'spark joy' in to the garbage bag which in the dialog the garbage bag has been well described as a black hole that if we cannot see the stuff in there it was like already disappear. No regret. No reminisce. And this action led to the second peak of this film, "First sorry". She accidentally dumped her best friend's stuff , Pink, in the bin and after Pink found out she was angry and told Lin that "I would have been sad if you just said sorry. It's a simple thing that normal people do. If you forget it doesn't mean others will do too. Stop being selfish and say it now". This scene opens up Lin's heart and starts to find out her humanity and kindness in her soul and together with the scene that her brother, Jay, dump her stuff and completely show me that she truly understands it. From the top to this scene there is no mistake or any flaw. Except for some dialog that makes all the characters stand beyond ordinary people and make a little suspicion about their realness.
The "Double bass girl" scene, Lin is leapfully bringing her friend's stuff back to them and this act does really a lot of positive energy to her until she meets a double bass girl, not really sure of her name. This girl came to show Lin that sometimes it may be good for some stuff that disappeared. Perhaps, some stuff may contain too many bad memories that when it comes back to the owner something that is missing might ignite them.
The "Dumping Person" scene, the signature scene from the trailer that grabs all interest from individuals the most. But it is not just that at this point that stuff can be dumped, but the feeling can't. That's the most selfish thing that Lin always does to everyone. Also with her ex, Aim. This scene may not be that important but if in the stair of this story, this is the step which is a turning point. because after this scene, the film already becomes more serious.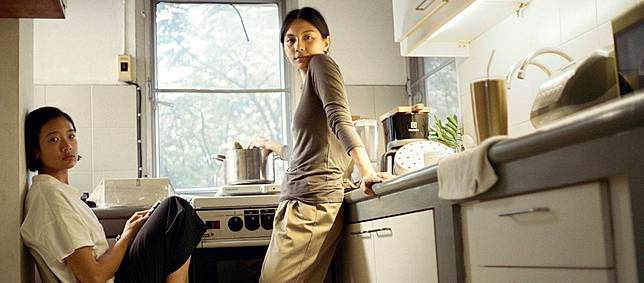 The "Mi first meet" scene, this scene has a great combination of the new conflict about Lin, Aim and Aim's girlfriend, Mi. Just a few minute that the conversation start, it make a lot of pressure and curious to me that it the way too nice too easy that make me question that Mi are really okay with this situation? With all the acting all applause should go to the actor because of the advance of their acting, their emotion that didn't come out from body language but the eye contact. The way they look at each other in the eating scene really makes me feel the emotion that happens there and makes me truly trust that they're all hiding something except Lin. But yet there is some irritating issue that slightly moves the situation to the highest and reveals what is really happening when Mi came to Lin house.
The "Final decision" scene, after the argument of Lin and Aim, made me a little bit disappointed with the result. Lin has sold the father's piano and made her mother go crazy about it, in the middle of the film there is a topic of the Lin family and it tells me that her father left her family and started again. My disappointment is not that disappoint but it can be said it's beyond expectation. At first, my purpose in seeing this movie is I want to know the answer of "How to dump something" but in the end it shows me the answer that can be answered in many ways up to what you believe. Some think dumping is just forgetting, some think dumping is just selfish, some say dumping is about two people, some say dumping is about myself. This film gave me a lot of the answer to a complicated question, no one will know the answer. This is brave.
Related
Related posts